What are Magnetic Chucks?
/
February 24th, 2022
/
There are currently 0 comments
Workholding magnets such as Magnetic Chucks are an alternative to the traditional workholding machinery, as they use magnetic force from permanent magnets to clamp and secure workpieces in place.
Our magnetic chucks have been engineered to give an effective and instant holding force that will consistently and safely clamp the material being worked on.
Magnetic chucks give users higher rates of productivity when grinding, cutting and milling ferrous metals. As demonstrated below:

How Does a Magnetic Chuck Work?
A magnetic chuck is activated by manually turning the key from the on to off position. Within the chuck, the magnets are always active, however, the magnetic flux remains locked inside the chuck when it is turned off.
Once the chuck is turned on, the magnets are aligned with the top plate, and the magnetic flux travels above the top plate. When a workpiece is applied to the top, it is secured as the flux is locked on to this. This will allow the user to securely work on the workpiece.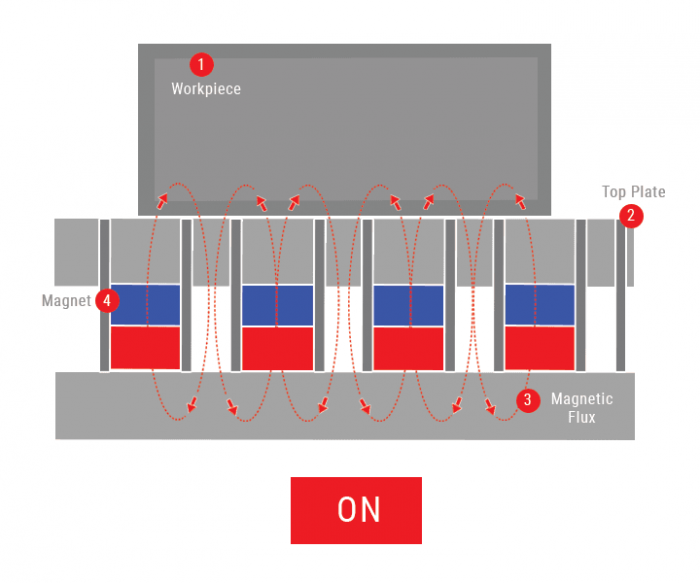 Why Are Magnetic Chucks Used?
Magnetic Chucks only hold ferrous metals they are designed for holding workpieces. Magnetic chucks have been a valuable tool for work holding applications including grinding, milling and cutting applications.
The Advantages of Using Magnetic Chucks
Magnetic chucks have a lot of advantages, from improved safety through the secure hold, to reduction in operational times and cost.
All our chucks are designed with a parallel pitch top plate, allowing for multiple workpieces to be used at once. The magnetic force is spread across the whole face of the top plate ensuring high accuracy and safety, whilst preventing distortions in the workpiece when used.
Learn how magnetic chucks can benefit your operation below:
Guaranteed Precision & Safety
Magnetic chucks provide a consistent clamping pressure that ensures there is no variation in how tightly or loosely the workpiece is held, this hold improves the working safety of the user. The permanent hold also provides accuracy and precision in machining, cutting, drilling, milling, turning and grinding.
Reduction in Operation Times
An advantage of using permanent magnetic chucks over traditional workholding machinery is that operation times and costs are considerably reduced, leading to an increase in efficiency and output. Our chucks come with a removable operating handle, which provides simple on-off switching between workpieces. With no manual clamping required, this leads to significantly improved clamping time.
Reduction in Operation Costs
No electricity is required for the operation of permanent magnetic chucks, so there is less machine downtime between workpiece setups, and operation can be carried out even in the event of a power failure. This also will help cut your electricity bills down and give you more time to get on with other tasks.
Versatile & Reliable Operation
Magnetic chucks provide a versatile clamping solution for use with a wide range of workpiece sizes. Our magnetic chucks are easy to operate and are highly reliable due to their permanent magnetism, ensuring consistent clamping at all times. Whilst clamped, all 5 faces of the workpiece can be accessed within one set-up, providing increased working versatility.
Do you require a Magnetic Chuck for your industrial application?
Be sure to source your Magnetic Chucks from a reliable manufacturer and supplier and understand the magnetic materials used in them and their capacity.
Here at Magnet Expert, we welcome any enquiry about magnets and their applications. Contact us today on 0845 519 4701 or please feel free to email us at sales@magnetexpert.com