Using Magnets With Fire Extinguisher
/
February 24th, 2022
/
There are currently 0 comments
Company Name: Britannia Fire LTD
Location: Norfolk, UK
Magnet Expert Product: F4MSR – Red Coloured Skittle Magnets
Industry: Health & Safety
Company Background
Norfolk-based Britannia Fire Ltd is an independent fire extinguisher manufacturing company that started to produce cartridges and stored pressure fire extinguishers in the 1970s.
The company has accreditation to the highest standards and have established a strong presence in the UK and export to all corners of the world, providing oil rig protection, chemical, petrochemical and marine markets.
Fire extinguisher product development has always been at the heart of the company, keeping pace with customer requirements and using the latest production techniques. Using their own fire ground to test new products.
The Application
Maintenance is an important part of producing health and safety equipment. The Regulatory Reform (Fire Safety) Order 2005 (RRO) outlines the need for a responsible person to take charge of all fire safety aspects, and that involves organising regular fire safety maintenance – including the regular servicing of fire extinguishers.
Typical maintenance included in an annual service consists of the following:
Carrying out a visual inspection.
Checking the extinguisher has not been used or tampered with.
Taking a pressure gauge reading.
Removing the discharge hose to check for blockages or corrosion.
Weigh and clean the extinguisher.
Ensure wall mountings are secure.
However, Britannia Fire Ltd wanted to provide a way for their customers to check that the magnets within their magnetic pressure gauges are working correctly when carrying out their own self-annual maintenance checks.
The Solution
Britannia Fire Ltd now supply a Red Coloured Skittle Magnet (12mm dia x 21mm tall) with every composite extinguisher that they produce. Allowing customers to ensure the magnets within their magnetic pressure gauges are working when carrying out self-annual maintenance checks.
Our Red Coloured Skittle Magnets contain a tiny Neodymium magnet it making them surprisingly strong for their size. What's more, because of their shape they are really easy to handle, remove and reposition.
Customer Comments
Chris Whiting, Purchaser at Britannia Fire Ltd stated that he would not hesitate to recommend working with Magnet Expert.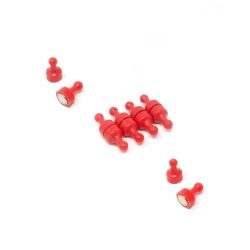 "We would not hesitate to recommend Magnet Expert to other companies. It's a very professional organisation, no problems and a very user-friendly company, outstanding communication and service from our account manager."
Contact Magnet Expert Today
At Magnet Expert, we welcome any enquiry about magnets and their applications. If you have questions regarding our magnetic assemblies or systems, technical information and advice, or you simply want to place an order please call 0845 519 4701 or fax us on 0870 838 1233.
If you prefer to send us an e-mail directly, please feel free by emailing us at sales@magnetexpert.com.
Our business hours: Monday to Friday 8.00 am to 5.30 pm.