Magnet Expert's Top Magnetic Sweepers
With a robust design and easy operation, clearing metal debris has never been easier with our range of magnetic sweepers. Stray ferrous items such as nails, screws, metal shards, and building debris can cause havoc with tyres, packaging, and even livestock.
These loose ferrous often go unnoticed until an accident happens.
Our wide range of Neodymium and Ferrite magnetic sweepers provides a durable and effective method of sweeping and clearing loose ferrous items from floors of any size.
No matter what size area you're looking to clear Magnet Expert has a suitable sweeper for you, from a handheld ferrite sweeper to our suspended forklift sweepers and even our combi sweeper, designed for both use on a forklift and also by hand.
Neodymium Sweepers
Our neodymium sweepers provide the most superior performance for sweeping stray ferrous items from a variety of surfaces with an adjustable handle and versatile frame.
The durable magnetic roller turns as the sweeper is moving, and loose ferrous items are collected and deposited in the tray after all items have been collected simply detach the tray and dispose of all ferrous items.
These neodymium sweepers are available in 14" and 22" frames to suit a range of environments.
.
Handheld Sweeper
Our handheld sweepers require no external power to operate and provide a convenient, durable, and effective method of sweeping hard-to-reach areas to attract loose ferrous items.
The versatile design allows you to easily sweep smaller areas and gather smaller items such as screws, nuts, and metal shards.
Once you've swept all loose ferrous items up, ensuring you're wearing gloves, you can simply wipe away and dispose of all collected ferrous items.
These handheld sweepers use ferrite magnets enclosed within a stainless-steel case, ensuring durability with continued use.
Suspended Sweepers
Our suspended magnetic sweepers are designed to be easily mounted onto forklifts and provide a versatile method of sweeping and clearing ferrous debris from large areas.
With no external power required our suspended magnetic sweepers are easy to operate and are provided with eye bolts to create a secure fixing method for a wide range of forklifts. The easy-release lightweight handle can be easily lifted to remove all ferrous debris collected in seconds.
Our range of suspended magnetic sweepers is available in a 36", 48", 60" and 72".
.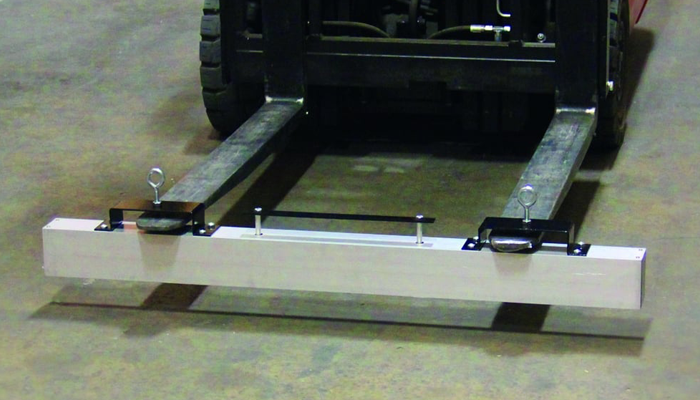 Combi Magnetic Sweeper – 36″
Designed to be easily mounted onto forklifts but also be used by hand, our combi magnetic sweeper is easy to operate and provides a durable and effective method of collecting loose ferrous debris when sweeping large areas.
Approx. 914mm width x 101mm height.
Constructed from heavy-duty mild steel bar enclosed in a stainless steel case.
Easily mounted onto the forklift with pockets secured by an eyebolt.
No external power is required to operate.
Supplied with durable rubber wheels and handle for hand-held use.
Includes a quick-release handle for releasing ferrous loads.
Available in a range of sizes to suit many environments.
Perfect for warehouses, factories, construction sites, and more.
Prevents damage to tyres and injury to livestock and personnel.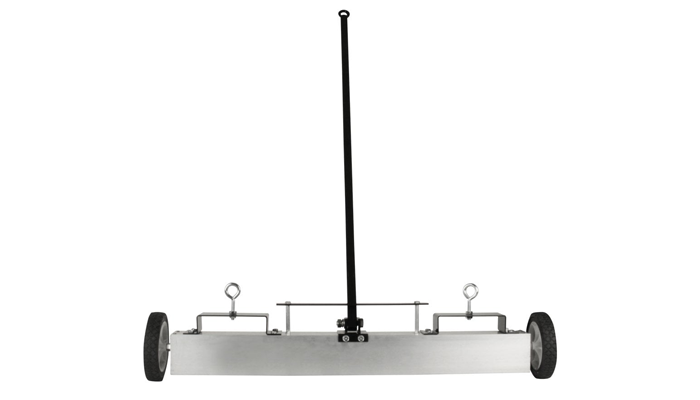 Do you require magnetic sweeper for your business?
Be sure to source your magnetic sweepers from a reliable manufacturer and supplier and understand the magnetic materials used in them and their capacity.
Here at Magnet Expert, we welcome any enquiry about magnets and their applications, contact us today on 0845 519 4701 or please feel free to email us at sales@magnetexpert.com.